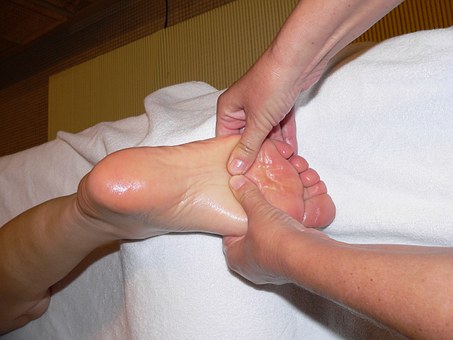 Our Foot Treatment includes the following:
A destressing foot soak
Exfoliation
Moisturising foot mask
Relaxing foot massage
Foot Massage Benefits
A foot massage is beneficial for many health conditions such as migraines, insomnia and depression . Gentle pressure to the feet promotes relaxation to the entire body. Specific points of the feet are targeted to bring the body back into balance so pain will subside and energy will increase. By working on all points of these areas, the therapist addresses internal organs, glands, muscle groups, bones and the entire nervous system.
Benefits of the foot treatment: Relieves, soothes and calms tired, aching feet; aids in prevention and removal of thick, dead, cracked skin on the heels, regenerates skin while improving elasticity; nourishes, refreshes and revitalises feet; increases blood circulation; removes toxins from the body; improves mood and fights depression; alleviates swelling of the feet and ankles due to water retention; promotes better sleep; improves overall physical health.