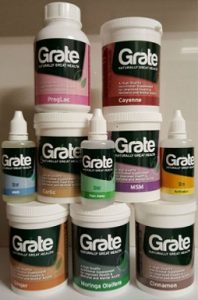 Let food be thy medicine and medicine be thy food
– Hippocrates
Grate is about restoring your body to a state of good health by using only natural, unadulterated supplements and foods that skillfully aid in boosting your immune system by getting rid of pathogens and toxins that destroy your good health!
Grate's objective is to help as many people as possible to overcome their diseases and restore their bodies to good health with products that are effective and most importantly, cost effective.
---
Moringa
Moringa Oleifera has been used for centuries to treat over 300 diseases. It has the highest and richest nutritional density and diversity of nutrients known of any plant source. Some benefits are:
Helps with low and high blood pressure
Very good for treating anaemia
Effective against blood disorders
Helps with skin blemishes
Helps against low libido
Helps with controlling diarrhea
Reduces joint pain
Helps with gastritis
Helps with rheumatism
Good for enhancing energy levels
Helps fight cancer
Enhances milk production with breast-feeding mothers, etc.
Very good for mental concentration
Moringa Oleifera has all the essential amino-acids, minerals, phytonutrients and trace elements which our bodies need daily. It is good for young and old.
Garlic
Garlic has been widely used as a food flavour enhancer and for its medicinal properties. These are some of the known health benefits:
Garlic boosts the immune system
Wards off colds and flu
Very effective against hyperthyroidism
Effective against cardio-vascular disease
Helps reduce high cholesterol
Fights fungal and bacterial infections
Helps regulate blood sugar
Helps kill parasites in the body
Helps improve blood circulation
Helps prevent Alzheimers disease
Increases anti-oxidant enzymes
Reduces oxidative stress
Turmeric
Turmeric has been used for thousands of years as an immune booster and wound healer. The powder can be applied directly to wounds and is useful in stopping bleeding. These are some of the benefits:
Excellent anti-inflammatory
Potent anti-oxidant and immune system booster
Boosts brain function and lowers risk of brain diseases
Anti-ageing
Relieves arthritis pain, inflammation & stiffness of muscles & joints
Helps to reduce depression
Lowers risk of heart disease
Natural antiseptic
Promotes healthier skin
Eases stomach discomfort
Helps prevent and fight cancer
Reduces build-up of gallstones
Helps reduce pain and swelling, etc.
Ginger
This wonderful flavoured plant is remarkable for the following health benefits:
Controls nausea and vomiting
Quells morning sickness
Reduces blood clots
Has anti-inflammatory properties
Is an anti-depressant
Is an anti-diarrheal
Good for treating headaches
Good for chest congestion
Very good for colds and flu
Helpful in treating stomach aches
Good for nervousness
Stimulates gastric juices (add a little sea or rock salt)
Helps the food to break down
Effective for chills
Good for motion sickness
Cayenne Pepper
Cayenne pepper is a rich source of potassium, calcium and vitamins such as beta-carotene, B-complexes, vitamin A, E and C. It has many health benefits some of which are:
Improves circulatory and digestive system by stimulating blood flow
Prevents and stops heart attacks
Reduces high blood pressure
Reduces high cholesterol
Increases metabolism and energy levels
Helps relieve stomach ulcers
Aids absorption of nutrients
Relieves pain of rheumatism and arthritis
Treats colds and sore throats
Helps fight cancer
Helps prevent swollen feet in pregnant women
Prevents and treats blood clots
Removes plaque from arteries.
Cinnamon
Cinnamon, though more commonly used for spicing up the taste of food, has some excellent health benefits. It is one of the few that helps control insulin intolerance very well. Health benefits are:
Very good for diabetics, keeps sugar levels down
Lowers cholesterol and triglycerides
Supports digestive function
Constricts and tones tissues
Relieves congestion
Alleviates pain and inflammation
Alleviates stiffness of muscles and joints
Eases menstrual discomfort
Stimulates circulation
Neutralises destructive bacteria
Enhances cognitive abilities
Helps reduce blood pressure
MMS
Grate MMS drops are used to help the body remove toxins, bacterial, viral and most fungal infections and promote healing of the body and full recovery from many ailments and diseases when used correctly.
Some of these diseases can take up to three months or more to combat but many can be eliminated in a period of three to four weeks and in some cases even twenty four to forty eight hours depending on the type of disease and how entrenched it is. 
Here are some of the diseases/ailments that the body can recover from by using Grate MMS drops:
Malaria, Tuberculosis, Yellow fever, Tick bite fever, Ebola, Flu, Swine flu, Bird flu, Diabetes, High blood pressure, Arthritis, Herpes, Aids/HIV, Skin problems, Blood disorders, Bronchitis, Pneumonia, MRSA, Cancer(all types), Insect bites (spiders, scorpions, etc.), Snake bites, Sexually transmitted infections, Sinus problems, Tumors, Bladder and Kidney infections, Uterus infections, Hepatitis, Lupus, Cholera, etc.
Pain Away
Grate Pain Away is used to reduce pain and swelling caused through injury of some kind. Swelling is generally reduced within an hour of application. Pain Away is a safe NATURAL non-steroidal non-toxic anti-inflammatory compound that produces no side effects.
Pain Away will provide relief from:
Painful muscles and Joints, Sprains, Swollen ligaments, Frozen shoulder, Rheumatoid Arthritis, General body pain, Pain from over-exercising, Headaches, Intercranial Pressure, Fibromyalgia, Scleroderma, Reduces blood clots, and reduces the effects of stroke if used as soon as possible after a stroke. Can also be used to reduce radiation sickness.
PregLac
PregLac is a natural plant supplement blend targeted at pregnant and breast-feeding mothers. This supplement helps them cope with the stress of pregnancy during the full nine month term and during the breast-feeding stage and beyond giving them energy and reducing swelling of the feet.